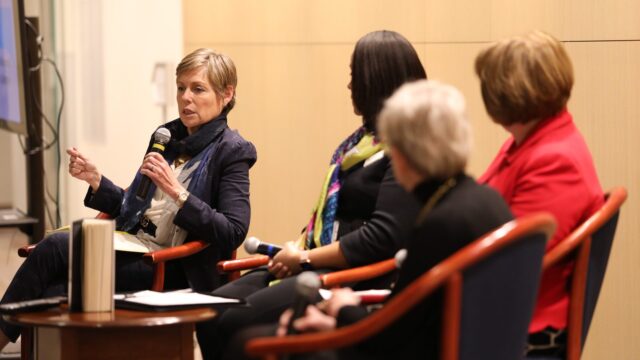 NMAD Explores the Legacy of Dance Diplomacy
On March 5, NMAD Deputy Director Dr. Jane Carpenter-Rock moderated a discussion on the legacy of dance diplomacy with historian Dr. Victoria Philips, Diplomacy Center Foundation (DCF) Board member Ambassador Sally Cowal, and Bureau of Educational and Cultural Affairs Director of Cultural Programs Nancy Szalwinski. Dr. Phillips is the author of "Martha Graham's Cold War: The Dance of American Diplomacy," and she and the panel discussed how dance has played a role in building cultural bridges around the world, particularly in the work of Martha Graham.
Philips talked about the use of dance over time around the world as a method of demonstrating American talent and as a means of demonstrating the diversity embodied in American dance. Though Martha Graham didn't see herself as a politician, she was very astute in understanding how important dance could be on an international stage. Philips highlighted several of the stories recounted in her book, in particular, how Martha Graham's dance company helped to ease travel restrictions in the Middle East after the Camp David Accords. Once President Jimmy Carter, Egypt President Anwar Sadat, and Israel Prime Minister Menachem Begin signed the peace agreement, the foundation for peaceful relations after thirty years of war needed to be created. This foundation needed to be created in various arenas including culture, tourism, commerce, transportation, agriculture, and science. Dance was an ideal vehicle.
Cowal, who served as the American cultural attache in Tel Aviv at that time, recounted her experience in bringing Martha Graham to Israel and noted that this exchange played a key role in fostering a sense of collaborative problem-solving. Dance exchanges helped to create the realization of shared humanity.
Szalwinski shared the continued impact dance has on diplomacy and how the program has grown to now include hip-hop and numerous other forms of dance.