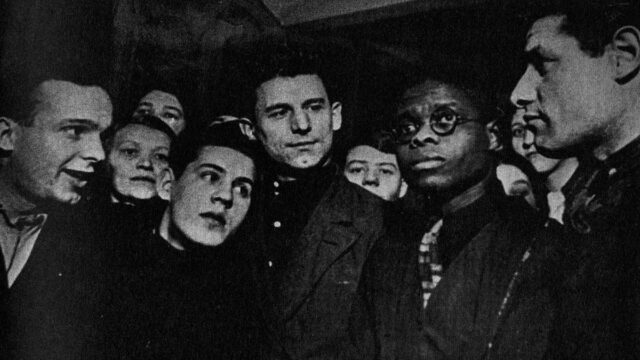 Stuck Behind the Iron Curtain: Race, Citizenship, and Red Scares
Join the National Museum of American Diplomacy (NMAD) on Wednesday, February 15th, at noon to commemorate Black History Month.
NMAD's Public Historian, Dr. Alison Mann, will feature the story of Robert Robinson, a Black American who unwillingly spent 44 years in Soviet Russia, and discuss how Bill Davis, a Black Foreign Service Officer, assisted in his repatriation.
Following the presentation, NMAD invites you to view accompanying items from our collection, including the original State Department ledger that helps tell Robinson's story. At the conclusion of the program, NMAD staff will be present to answer questions, and visitors are welcome to explore NMAD's preview exhibit, Diplomacy is Our Mission, until 1:30 pm.
NMAD is located at 330 21st St NW, Washington, DC 20006, in the Harry S Truman Building. Visitors must enter at the 21st Street entrance to the U.S. Department of State (the glass building on 21st Street between D Street and C Street, NW). The talk will take place downstairs in the lower level.
On the day of the program, please arrive 15 minutes before the 12:00 pm (noon) program begins to allow time for security. A government-issued photo ID is required for entry.
Registration for this event has closed. If you were unable to register for this event, please consider watching our virtual companion event on February 23rd.