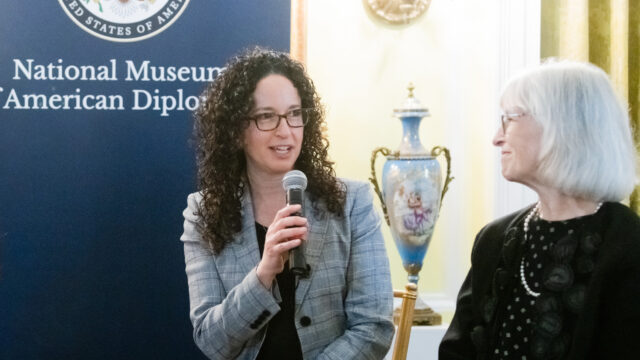 The Diplomat Debrief featuring Exec. Producer Debora Cahn & Amb. Beth Jones
On June 12, NMAD hosted two discussions about public perceptions of diplomacy inspired by the new Netflix series, The Diplomat.
At the museum, Assistant Secretary of State in the Bureau of Global Public Affairs, Bill Russo, moderated a discussion with Executive Producer Debora Cahn and Ambassador Beth Jones, one of the real-life diplomats that inspired Netflix's new hit series.
In their discussion, attended by an audience of State Department employees, Cahn shared how the show came to life. Cahn met Ambassador Jones while she was doing research on another show. Jones, a career foreign service officer, began telling story after story about her work and experience as a diplomat. "She was like a superhero in a pantsuit," Debora said. Debora knew she had to bring the story of the work of diplomats to the screen. After initial conversations with Ambassador Jones, Cahn consulted with many other current and former ambassadors and diplomats, both career and politically appointed.
Ambassador Beth Jones spoke about her time in the U.S. Foreign Service and how those experiences mirror aspects of the show. She shared her unique challenges and opportunities of being a senior woman diplomat. Jones reflected on moments where she was easily recognized, because she was a woman, as opposed to her many male colleagues. Since there are so few women U.S. ambassadors, it is important for them to stick together, said Jones.
While the series is heavily fictionalized, it draws from many real experiences of U.S. diplomats. The public has been quick to attempt to separate fact from fiction since the show's airing. Jones did remark on one moment that seems far-fetched, but is actually possible. While ambassadors normally require Senate approval before going to their post, in an emergency, this Senate confirmation can be postponed. Jones noted that this happened in 1988 as well, when Secretary of State George Shultz appointed Robert Oakley to immediately become the U.S. Ambassador to Pakistan after his predecessor, Arnold Lewis Raphel, was killed in an airplane crash.
Overall, the panel noted that "diplomacy is having a moment." Both Cahn and Jones expressed hope that this series inspires the next generation of diplomats to join the diplomatic corps. Jones noted how rewarding a career in the Foreign Service has been, and said "When you join the Foreign Service, you have one important client: the American people…There is nothing more honoring or humbling than that."
Ambassador Jones' career spanned some of the most consequential diplomatic issues over four decades. She served as U.S. Ambassador to Kazakhstan from 1995 to 1998. As the Assistant Secretary for Europe and Eurasia from 2001-2005, she designed U.S. policies for NATO, EU countries, Russia, Ukraine, the Caucasus, and Central Asia. Other assignments included Deputy Chief of Mission (DCM) at the U.S. Embassy in Germany and DCM at the U.S. Embassy in Pakistan. Most recently she served as Chargé d'Affaires in India from 2022-2023.
Cahn's previous credits include serving as writer and executive producer on the Showtime series Homeland, writer and producer of FX's limited series Fosse/Verdon, and writer and producer on the ABC series Grey's Anatomy. She started her writing career on the landmark NBC drama The West Wing. Ms. Cahn was part of the writing staff that won the Emmy for Outstanding Drama Series for the West Wing in 2003, and was nominated for other series. She is the recipient of two Writers Guild of America awards.
Watch the full discussion online.
Later that evening, Esther Coopersmith hosted an event to celebrate the museum. Coopersmith served as a public member of the U.S. delegation to the United Nations General Assembly during the Jimmy Carter administration and now is a UNESCO Goodwill Ambassador.
Debora Cahn and Ambassador Jones discussed the series at the event, attended by many other real-life ambassadors who had been interviewed as part of research for the show. NMAD staff joined, as well as Ambassador Stuart Bernstein and Michele Manatt, board directors of the Diplomacy Center Foundation.
Members of the diplomatic community, including the ambassadors of Ukraine, Poland, Albania, Turkey and Thailand, were in attendance. Speaker Emerita Nancy Pelosi (D-CA), Senator Ed Markey (D-MA), and Representative Debbie Dingle (D-MI) attended, among many other current and former U.S. ambassadors, business leaders, and officials.
In addition to hosting the event, Coopersmith donated a selection of items to the museum that demonstrate her commitment to citizen diplomacy. These items include:
Framed collage, documents, and photos from the signing of 1979 Egypt-Israel Peace Treaty
A copy of Anwar Sadat's Nobel Peace Prize
An inscribed plate/platter with an illustrated face of Jehan Sadat
The framed presidential commission from Jimmy Carter, for Esther Coopersmith as U.S. delegate to the 34th session of the General Assembly to the UN from 1979
A pair of framed letters from Secretary of State George Schultz from 1985
A framed UNESCO Goodwill Ambassador certificate from 2009
A framed photo from a trip to the Soviet Union, during which Esther Coopersmith first introduced then-Governor of Arkansas Bill Clinton to Boris Yeltsin
Browse a selection of photos from the event below. All photos are available on Flickr.