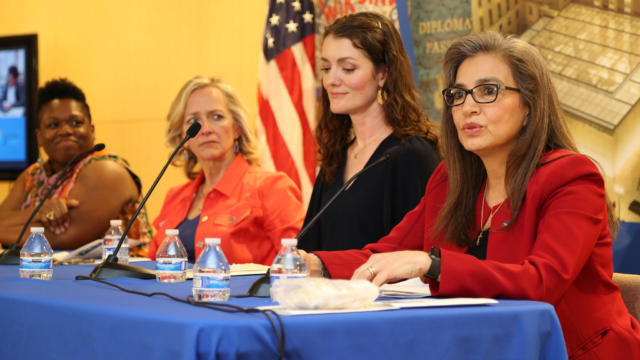 Women in STEM: Past, Present, and Future
On March 28, the National Museum of American Diplomacy in collaboration with the Secretary's Office for Global Women's Issues and sponsor AnitaB.org hosted a panel discussion on Women in STEM: Past, Present, and Future. National Museum of American Diplomacy Director Mary Kane welcomed the panelists and introduced the Bureau of Educational and Cultural Affairs Assistant Secretary Marie Royce to provide remarks. Assistant Secretary Royce spoke passionately about her Bureau's efforts to create space for women in science and technology. She shared information about an exchange program created between NASA, the State Department, and Fox Studios, after the release of the film Hidden Figures about women scientists who were instrumental in the launch of John Glenn and turned around the space race.
Dr. Wanida Lewis, Senior Economic Evaluation Program Analyst from the Office for Global Women's Issues, moderated the panel consisting of Liza Mundy, author of Code Girls, Dr. Teresa Williams, an American Association for the Advancement of Science Fellow and TechWomen mentor, and Sandra Cauffman, the Acting Director of the Earth Science Division at NASA. All the panelists spoke about the obstacles women endure to success, whether socio-political, personal or economic.
Mundy began the conversation by honoring the more than 10,000 women who served as codebreakers during World War II. Mundy chronicled the story of these women. She explained that after Pearl Harbor, only four percent of women achieved a four-year college degree because many colleges were not open to women. After Pearl Harbor, the Navy desperately needed talent. Normally, the Navy would recruit at MIT or Harvard, but Mundy found a memo typed in 1941 that talked about a new source of recruits, "women's colleges." Mundy described two criteria the women were asked during recruitment: Did they enjoy doing crossword puzzles? (Yes.) Were they engaged to be married? (No.) These women moved to Washington and learned the meticulous work of code-breaking. She also elucidated that women were sworn to secrecy regarding their efforts in the war. Their efforts shortened the war by more than a year and saved countless lives, but they were bound to a strict code of secrecy and their efforts were almost erased from history.
Williams shared her personal struggles to become a scientist. She talked about her family's financial struggles and how she wasn't encouraged to pursue math and science, even though she enjoyed the subjects. In community college, when she met her first female chemistry professor, she finally had a vision that she, too, could succeed in science. Her journey included an abusive relationship that set her back and left her with self-esteem issues. But her spirit and people along the way who saw her intelligence and drive continued to support her and she struggled and come out on the other end. She talked about being a part of the State Department's Women and Technology exchange program which allows her to be a mentor for women scientists overseas. She understands the loneliness of being a woman in science and she wants to give back, the same way that others gave back to her.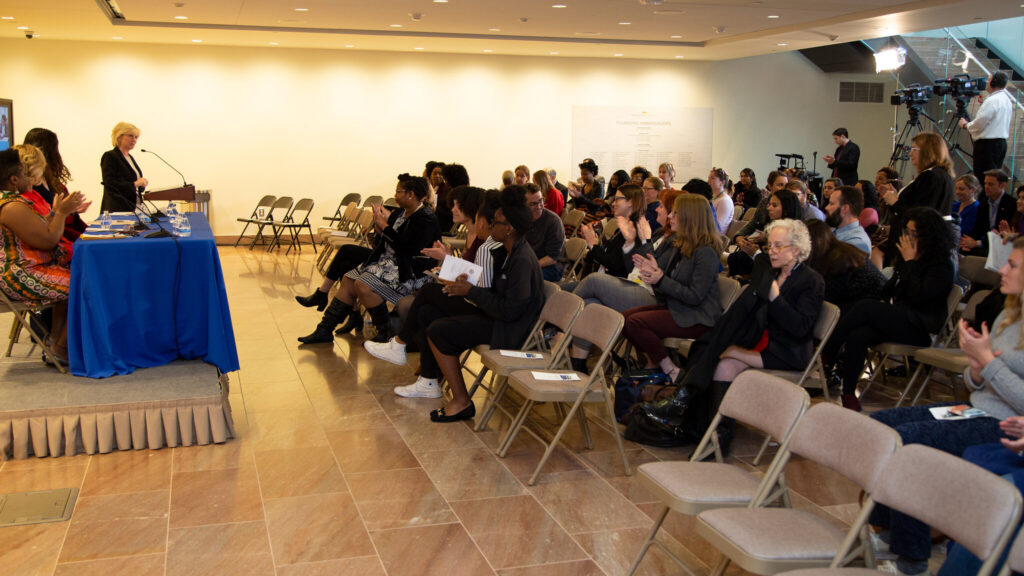 Cauffman's story was equally compelling. She also felt that she might not have been here today, running one of the largest divisions at NASA, managing the satellites observing the earth. Her story began in Costa Rica. Her mom didn't finish high school, survived being raped and having the child, and held two-three jobs to keep the kids sheltered, clothed, and fed. At seven, she saw the Apollo launch and Neil Armstrong walk on the moon. She told her mom that day that she wanted to get to the moon one day. Her mom, advised her, "Keep that thought in your head because you never know what the world will bring you."
Her high school wasn't a good one, so her mom found her one that was two bus rides away or an hour and a half walk, when they didn't have money for transportation. At 13, her mom got sick and they lost everything, so they had to keep moving to find shelter. Cauffman took care of her siblings, worked, and went to school and still graduated with the second highest grades. Her mother eventually married an American who sent Cauffman to the United States to study. Cauffman worked at a hardware store, and finally got into an electrical engineering program, but still dreamed of working at NASA. In 1991, she finally got the call. She attributes her success to her mother's spirit of believing that we all have the power within us to make our dreams a reality.
As women, all the panelists spoke candidly about women's struggles, past, present and future. They all also recognized the importance of mentorship for other women and girls and spoke about how they contribute to advancing the next generation of women scientific leaders. Following the panel, AnitaB.org sponsored a reception for the event.
Take a look at more photos of the event.