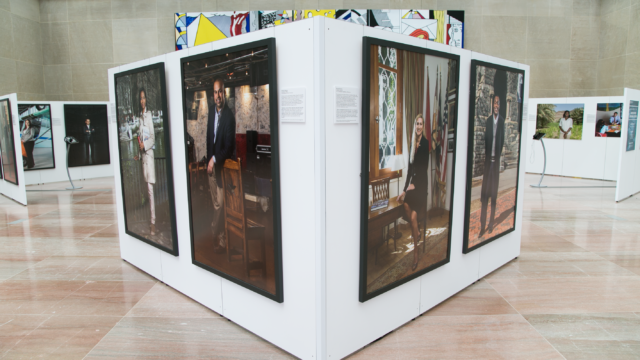 NMAD Hosts Faces of Diplomacy Preview Exhibit
From July 23 to August 31, 2018, the National Museum of American Diplomacy (formerly the United States Diplomacy Center) hosted a preview of the exhibit Faces of Diplomacy in the Pavilion at the 21st Street entrance of HST.
Faces of Diplomacy features portraits and videos of diplomatic professionals working abroad and in Washington D.C. From Public Affairs Officers to Information Management Specialists to Diplomatic Security Officers, their stories illustrate the wide range of skills and functions required in the conduct of American diplomacy.
Faces of Diplomacy features members of the Foreign Service and Civil Service, as well as locally engaged staff and many others who manage our diplomatic relations and advance our nation's interests around the world.
Though they come from various regions, have various educational backgrounds, and have a wide variety of responsibilities, their diplomatic service to our nation that unites them in purpose. Each of them serves our nation by promoting peace and prosperity on behalf of all Americans.
The information provided for these diplomats reflects their position at the time of the creation of the portrait. It is the nature of a Foreign Service career to serve around the world on a rotating basis.
This exhibition offers a preview of a planned permanent exhibition for the National Museum of American Diplomacy. Faces of Diplomacy was created in collaboration with students and faculty from The George Washington University's Corcoran School of the Arts and Design and the Department of Defense's Combat Camera. Faces of Diplomacy was made possible through a generous grant from the Annenberg Foundation to the Diplomacy Center Foundation, the museum's private 501(c)(3) partner.