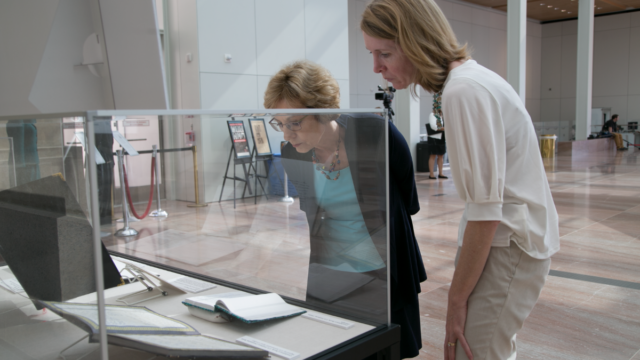 Farewell to Associate Curator Katie Speckart
Katie Speckart joined the museum in 2004. At that time, the collection consisted of 1,500 artifacts without an exhibition space of its own. Over the ensuing years, Katie played a key role in growing the collection to over 9,000 objects and was an integral team member during the construction of the 20,000-square-foot glass pavilion on 21st Street the museum now calls home. 
Katie was also instrumental in developing important relationships with generous donors, like-minded institutions, and knowledgeable partners who freely shared their expertise and stories of diplomacy with the museum. Through these relationships, Katie significantly expanded the reach and reputation of the museum. Whether curating physical and online exhibits, researching and writing about the collection, speaking to live and digital audiences, teaching the next generation of museum professionals, or nurturing important relationships, Katie's presence loomed large at NMAD. She leaves a lasting legacy that NMAD will honor by continuing to build a world-class museum on American diplomacy. 
Farewell, Katie. We are grateful for your service.