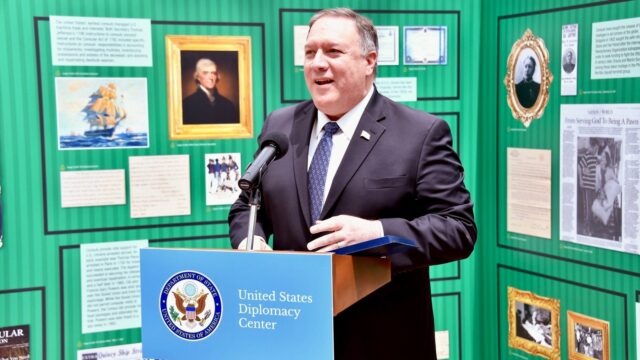 "From Pirates to Passports: A Timeless Commitment to Service" Exhibition Opens
From May 2019 to July 2019, the National Museum of American Diplomacy (formerly known as the U.S. Diplomacy Center) hosted the Bureau of Consular Affairs exhibit "From Pirates to Passports: A Timeless Commitment to Service."
On May 28th, Secretary Mike Pompeo spoke in the National Museum of American Diplomacy (NMAD) pavilion at the opening of an exhibit by the Bureau of Consular Affairs. He highlighted that the exhibit "tells the story of our timeless commitment to serving the American people. Consular Affairs' mission spans across the globe and across the centuries dating from before the signing of the U.S. Constitution down to today."
This exhibit celebrates the 40-year anniversary of the founding of the Bureau of Consular Affairs and the long history of consular service to the American people. The exhibition includes photos, stories, and historical artifacts showcasing the evolution of consular affairs from its inception to its global presence today. Later this year, a digital version of the exhibit with expanded interactive content will be available to the public.
On display are the stories of consuls from the earliest days of the republic to the present, and of the citizens they helped, including in crisis. U.S. passports trace the transformation of the iconic document from a written memo requesting safe passage to the state-of-the-art, secure passport book produced today. Similarly, the exhibit follows the evolution of visa regulations over centuries to adapt to an increasingly complex and interconnected world.
Specific artifacts within the exhibit include passports of famous persons; a logbook from U.S. Consulate General Marseille documenting the consulate's passport services to hundreds of U.S. citizens, including Gertrude Stein and Varian Fry, fleeing Nazi-controlled Europe during World War II; and historic "tools of the trade" used to produce visas, including a visa machine, visa plates, and wax seals.