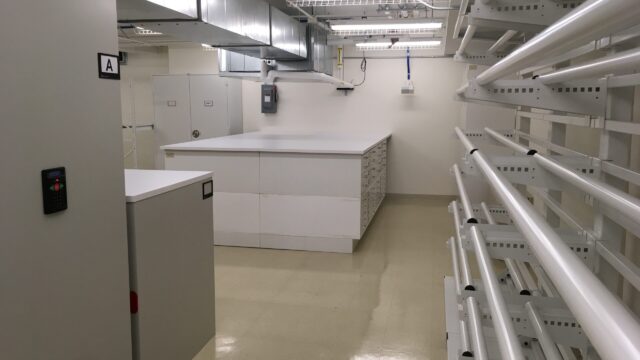 NMAD Completes New Collection Storage Facility
The National Museum of American Diplomacy (NMAD)'s collection has a new home following the completion of a custom designed 2,000 square-foot museum storage space. This new space represents a significant upgrade in storage capacity, access, and preservation capabilities for the museum's unique 8,500+ item collection. NMAD is the only museum collection in the nation focused on preserving our diplomatic history.
Outfitted with specialized museum storage shelves and cabinets, the space provides roughly double the storage capacity that was available in the museum's former facility. A fifty-foot-long compact storage system is a central component, which helps save floor space by placing shelves and cabinets on mobile carriages with aisles that can be opened or closed at the touch of a button.
The space also features an independent climate control system, providing a stable temperature and relative humidity 24 hours a day, 365 days a year. A stable climate helps ensure the best possible conditions for the long-term preservation of the priceless history the museum is entrusted with caring for and sharing with the public.
The project to deliver this space unfolded over an approximately two-year period and involved coordination between the State Department's administration bureau, construction crews, diplomatic security, and the museum's collections manager.
With the space completed, the museum's curatorial staff is now moving the collection from its temporary location into its new home. The specialized features and increased capacity of this space will enable NMAD to preserve, grow, and share its unique collection with the public — now and in the future.