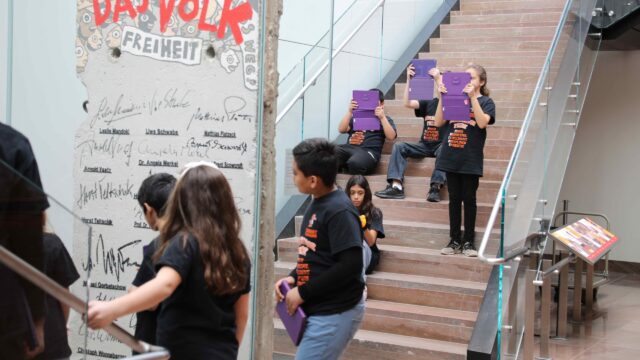 NMAD debuts MADI, state-of-the-art in-museum mobile technology
Coinciding with the launch of the Berlin Wall exhibit, the National Museum of American Diplomacy (NMAD) launched the Museum of American Diplomacy Eye, or MADI, an award-winning in-gallery museum guide that uses image recognition on personal smartphones to scan artifacts as visitors explore galleries. The image recognition technology instantly unlocks exclusive interviews with diplomats, additional contextual historical content, and related artifacts in NMAD's collection.
The inaugural launch of MADI offers nine additional experiences accompanying The Berlin Wall exhibit, including a biographical video featuring the signatories of the wall as well as historical footage to put the visitor in the shoes of those living at the time of the Cold War. In 2020, content for MADI will be expanded for the Diplomacy Is Our Mission exhibit to feature surprising facts about the diplomats from American history, as well as interviews with current U.S. diplomats who engage in diplomacy all over the world today. NMAD will also use MADI to test visitor experience, experiment with content, and examine analytics for wider use in the permanent museum.
The NMAD collaborated with the Smithsonian's Hirshhorn Museum and Sculpture Garden, in conjunction with Linked by Air, to adapt their critically acclaimed technology for our exhibits. They are expanding this technology to other Smithsonians including the National Museum of African American History and Culture, the National Museum of Natural History, the Smithsonian American Art Museum, the National Air and Space Museum, and the National Museum of American Art. MADI will be the inaugural launch in this series.