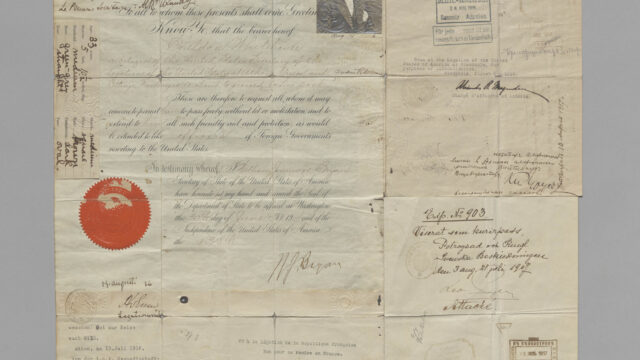 Ambassador Sheldon Whitehouse's 1914 Special Passport
Sheldon Whitehouse, a career Foreign Service Officer (FSO), served as U.S. Minister to Guatemala (1929-1933) and to Colombia (1933-1934). Prior to these posts, he used this Special Passport to travel to his post at the U.S. Legation for Greece and Montenegro. It was issued on June 30, 1914, just as war was about to break out in Europe.
What is a Special Passport?
Special Passports were issued to prominent officials traveling on government business. They were used during most of the 19th century and into the early 20th century. The Department of State adopted a new "passeport diplomatique" in 1918 for officials traveling in the diplomatic service. Starting in 1926, currently-serving diplomats as well as former ambassadors were issued Diplomatic Passports.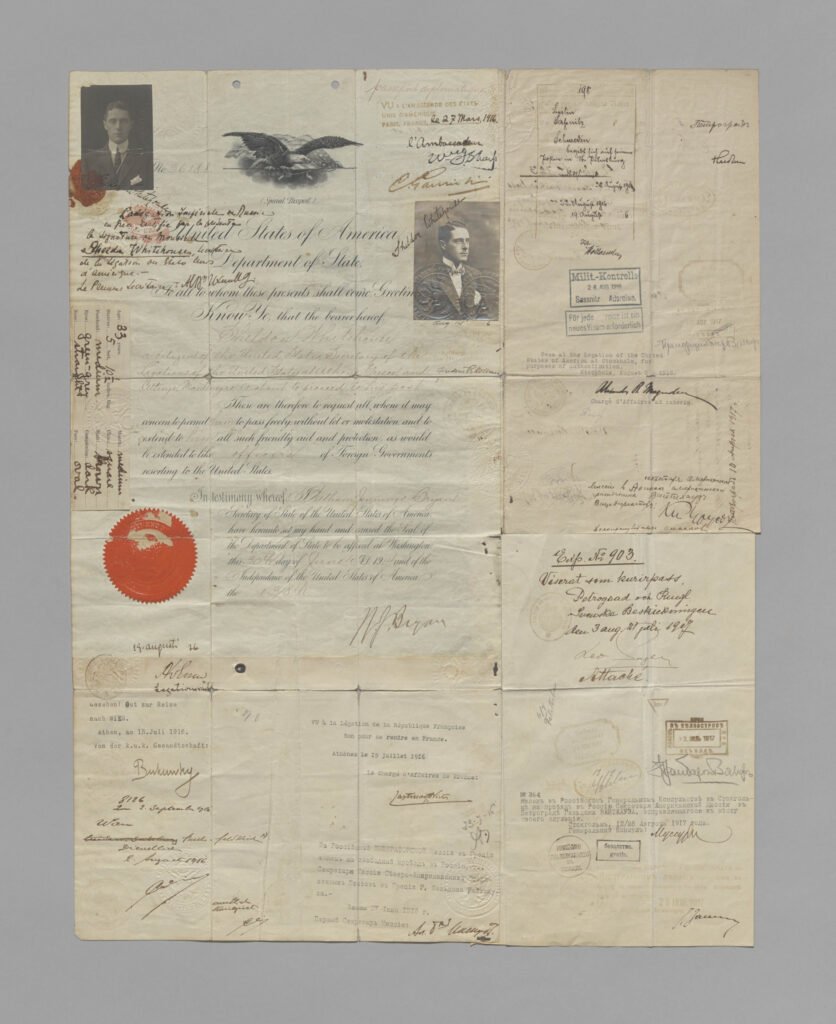 What did passports look like in 1914?
Photographs were not required on U.S. passports until December 1914, and in the case of this passport, they would have been added later if the passport was first issued before this date. A description of the bearer's physical features is also attached on the upper left front side that includes details such as the shape of his forehead and chin, and the color of his eyes and hair. Whitehouse used this passport from 1914 to 1918. It is stamped throughout, on both sides, and additional pages were attached to the right and lower sides to accommodate his many trips. The passport is signed by Secretary of State William Jennings Bryan.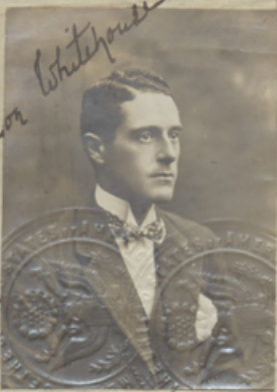 Ambassador Sheldon Whitehouse's Career in the Foreign Service
Ambassador Whitehouse entered the Foreign Service in 1908 and served until 1935. His postings included American Embassies in London, Caracas, Paris (twice), Madrid, Athens and Montenegro, St. Petersburg, Stockholm, Washington DC (Chief of the Near Eastern Division), Guatemala, and Colombia.
He was witness to major post-WWI efforts to secure peace in Europe. As Counselor of the U.S. Legation in Sweden in 1919, Whitehouse was a participant in the American Commission to Negotiate Peace at Paris. In 1927, as Counselor of the embassy and Charge d'Affaires in Paris, he facilitated early discussions that would result in the Kellogg-Briand Pact of 1928.
The Whitehouse Legacy of Public Service
The Whitehouse family has a long legacy of public service. Sheldon Whitehouse's son Charles, a career FSO, served as U.S. Ambassador to Laos (1973-1975) and Thailand (1975-1978). His son-in-law Robert Orris Blake, a career FSO, served as U.S. Ambassador to Mali (1970-1973). His grandson Robert Blake Jr., a career FSO, served as U.S. Ambassador to the Maldives and Sri Lanka (2006-2009), Assistant Secretary of State for South and Central Asian Affairs (2009-2013), and U.S. Ambassador to Indonesia (2013-2016). His grandson Sheldon Whitehouse currently serves as a U.S. Senator for Rhode Island.