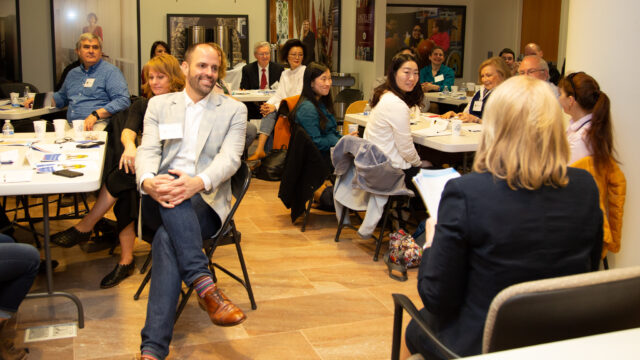 NMAD hosts TEDx Participants on "Why Diplomacy Matters"
The National Museum of American Diplomacy partnered with TEDx MidAtlantic Adventures on March 29th to host participants for a day-long engaging, thoughtful, and immersive experience to highlight the theme of "Why Diplomacy Matters: Public Private Partnerships and our National Security, Prosperity, and Global Leadership."
Building on the theme of resiliency and empowering our civic systems to become "unbreakable", participants engaged in a Diplomacy Simulation, an immersive and interactive exercise requiring individuals and groups to work together in confronting international challenges.
The morning 90-minute simulation, "Freshwater Crisis: Energy Security and Economic Growth", split participants into several groups representing different stakeholders with competing interests regarding an international water crisis. The hypothetical simulation forces participants to negotiate a diplomatic solution. As a result, one steps into the role of a diplomat and experiences how diplomacy involves different groups working together in confronting international challenges.
After the simulation, participants, along with other invited guests, attended a panel discussion on how the government and private sector can successfully partner together, "Why Diplomacy Matters: Public-Private Partnerships and our National Security, Prosperity, and Global Leadership."
This panel sought to explore how American diplomats partner with the private sector to confront critical global challenges and how diplomacy supports our nation's security, economic prosperity, and global leadership. Moderated by NMAD Director Mary Kane, the panel comprised experts from both the government and private industry:
Christopher Roberti, Chief of Staff, US Chamber of Commerce
Aaron Salzberg, Bureau of Oceans and International Environmental and Scientific Affairs, State Department
Thomas DeBass, Office of Global Partnerships, State Department
Panelists shared ideas and experiences on successful collaborations in various fields related to diplomacy. Panelists then took audience questions and were able to directly share their insights with examples including when the government cannot succeed on its own, the role of the private sector worldwide, and globally extending American prosperity through diplomacy.
The TEDx group consisted of attendees participating in the TEDx MidAtlantic Adventures fall conference in Washington, D.C. entitled "Unbreakable". The conference aimed to empower "resilience" and address what it means to be strong in a changing world and attracts thought leaders and innovators from across the country for the 2-day event.
Watch the event overview below