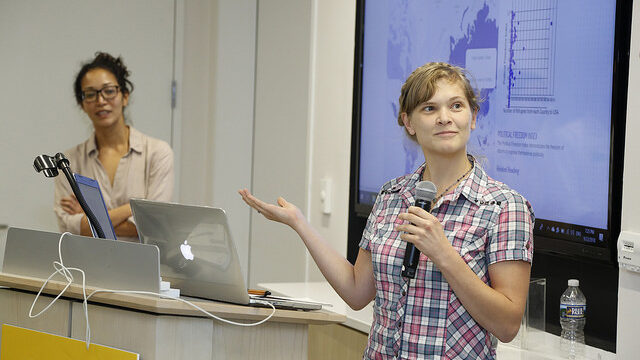 NMAD Hosts Data Visualization Hackathon: ImpactHack 2018
Visualizing Diplomacy, Development, and the Environment
On September 21 and 22, 2018, the National Museum of American Diplomacy and World Resources Institute partnered to host ImpactHack, a data visualization hackathon in Washington D.C.
Sixteen teams competed to demonstrate diplomacy's impact, from local state economies to global issues, using their coding and design skills. Amazon Web Services was the Title Sponsor and generously donated its time, technology, and expertise to managing the hackathon. Promising projects from this hackathon will be used to develop NMAD exhibit prototypes.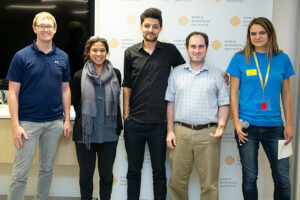 First Place: My State, My State Department
Alex Cohen (Maryland), Taylor Funk (Virginia), Brianna McGowan (Maryland), and Chaudhry Talha (District of Columbia) created the winning project, of ImpactHack 2018, called My State, My State Department. The team created an interactive map and game that connects the work of American diplomacy with its impact on local communities across the United States. The map allowed users to explore the benefits of real diplomatic negotiations to regional U.S. interests. McGowen describes, "After about two hours of brainstorming, my team knew we wanted to gamify state-by-state diplomacy and make it fun to interact with, learning not only the significance of diplomacy but also increasing knowledge on the importance of the State Department and the impressive work they do."
The My State, My State Department team is all the more remarkable because they had just met each other at the opening event. They are excited about the possibility that their project could be used in the future NMAD museum.
Second Place: Data Ambassadors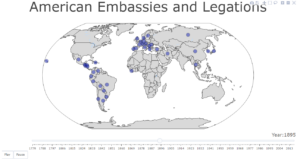 The second-place project, Data Ambassadors, demonstrated America's diplomatic growth over time through an interactive map. The map included the context of historical events and a clickable timeline spanning the birth of the United States to current day. This team, consisting of Aaron Corso, Jeff Hale, Jessica Martin, and Chia-Hua Peng, also met at the opening event. Jessica plans to work with NMAD to continue building out the project. She reports: "I am working on polishing it and adding final features. This isn't something that has been done before."
Another teammate, Aaron Corso, notes "Tech and data visualizations, in particular, democratize diplomacy. Living in the DC area makes you more acutely aware of the activities of diplomats, but for someone living in the midwest, they may not have the constant exposure or awareness. The projects at this hackathon showed great promise in how we can raise awareness of how American diplomacy affects everyone by putting you in the driver's seat."
Third Place: Global Movement
The third place project, Global Movement, addressed the factors that may relate to refugee rates, including a country's relative freedom. This high school team, including Kashyap Murali, Aditya Patil, Krishnan Ram, and Jinal Shah, had driven down from New Jersey to participate in the hackathon after winning a travel sponsorship for their diplomatic relationship simulator in another hackathon in May. Several intend to apply for internships at the State Department in the future.
Most Likely To Be Published: Alice Feng
Alice Feng won the special category award, "Most likely to be Published" with her project. She used data and graphics to tell an immersive story of the Paris Agreement, which was a landmark in terms of how many countries signed on in a short time. She used data visualizations to show how the rapid adoption of the Paris Agreement stands out relative to other agreements and then moved on to explore what impact this agreement will have, if any, on trying to stop the forces of climate change.
"I feel technology can play an important role in American diplomacy, whether by using it to educate citizens about our diplomatic efforts or as a way for us to learn more about and build stronger relationships with other cultures. I hope to participate in more opportunities to use data visualization to tell stories about the impact of international collaboration," Alice Feng said.
The National Museum of American Diplomacy utilizes technology to understand the impact of diplomacy on international cooperation and its impact on the everyday lives of Americans.
About ImpactHack
ImpactHack took place over the course of forty hours in two locations. The kickoff launched at NMAD with remarks from Mary Kane, NMAD's director, Janet Ranganathan, World Resources Institute's VP of Climate and Research, and Mark Smith of the hackathon's Title Sponsor, Amazon Web Services. Participants met mentors, formed groups, and began projects. After a full day of guided designing, coding, and testing at the World Resources Institute, groups presented their projects. While judges made a final decision, Joe Dooley, policy manager at Google, spoke about the importance of open data and higher education in STEM. The $3,000 in prizes were announced and projects published for continued development.
The National Museum of American Diplomacy will be the first museum and education center to tell the story of the history, practice, and challenges of American diplomacy. Through exhibitions and programs, the museum will inspire the American public to discover diplomacy and how it impacts their lives every day.
The World Resources Institute is a global research organization that spans more than 60 countries. Their more than 700 experts and staff work closely with leaders to turn big ideas into action to sustain Earth's natural resources—the foundation of economic opportunity and human well-being.
Subscribe to learn about our upcoming programs or check out our other past events.