"Free At Last" Artwork
United States 1981
This artwork was given to Bruce Laingen, one of the 52 American hostages held in Iran for 444 days from 1979-1981. It depicts President Jimmy Carter and the iconic symbol of the hope for the hostages' safe release – a yellow ribbon – tied around a tree. One of a series of 52 produced, a note on the back of the frame indicates that the artist gave one to each of the hostages. After their release on January 20, 1981, the hostages received numerous letters, official proclamations, and artworks from across the country. Bruce Laingen was a Foreign Service Officer and the most senior official at the U.S. embassy, serving as Chargé d'Affaires (the person in charge) since there was no U.S. ambassador to Iran at that time.
Source/Credit:
Catalog Number:
Created:
Acquired:
This image is in the public domain and no permission is required to use it. Please credit the National Museum of American Diplomacy as the original source, and provide a link back to the item page where possible.
Most of our items are donations, and we cannot always confirm the copyright or trademark status of photographs, prints, drawings, and other artistic works that may be depicted in these images.
Please contact us at NMAD@state.gov for any permissions or usage questions.
Learn More About the Iran Hostage Crisis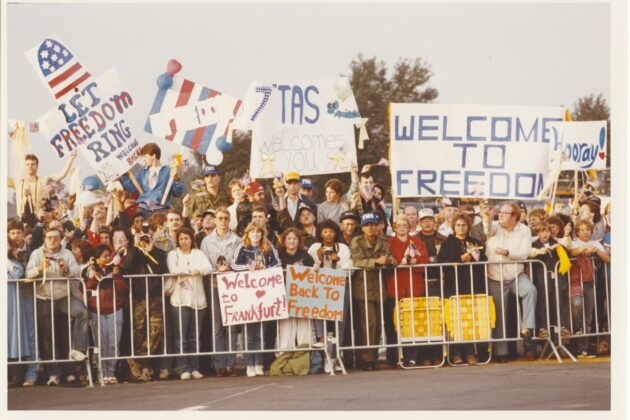 Story of Diplomacy
"Tie a Yellow Ribbon:" The Origin of the National Response to the Iran Hostage Crisis
Read More