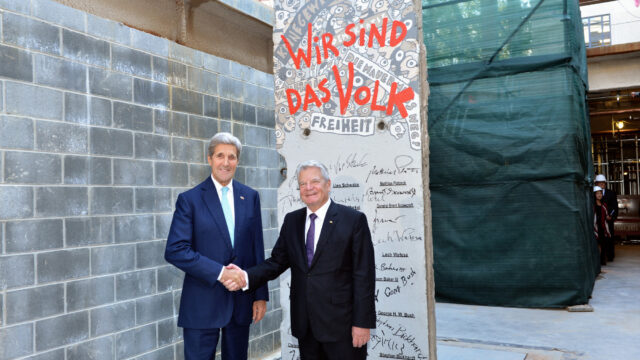 The "Signature Segment" of the Berlin Wall
From 1961 to 1989, the Berlin Wall served both as a physical barrier as well as a symbol of division and repression. Families, friends, and communities were cut off from each other. And those who dared to cross from communist East Berlin to democratic West Berlin risked their lives.
By the late 1980s, however, the communist hold over Eastern Europe was slipping, and residents of East Berlin, yearning for freedom, began to demonstrate for their rights. On the night of November 9, 1989, some courageous ones breached the wall. Thousands followed over the next two days, and international media captured unforgettable images of them crossing, peacefully, into West Berlin. For many, those images mark the end of the Cold War and the victory of democracy over communism.
Today, the National Museum of American Diplomacy in Washington, DC is home to the "Signature Segment" of the Berlin Wall. This 13-foot high, nearly three-ton piece of the wall has been signed by 27 leaders who played a significant role in advancing German reunification. They include U.S. President George H. W. Bush, U.S. Secretary of State James Baker, German Chancellor Helmut Kohl, Soviet Premier Mikhail Gorbachev, and Polish labor union leader and Nobel Peace Prize Laureate Lech Walesa, among others.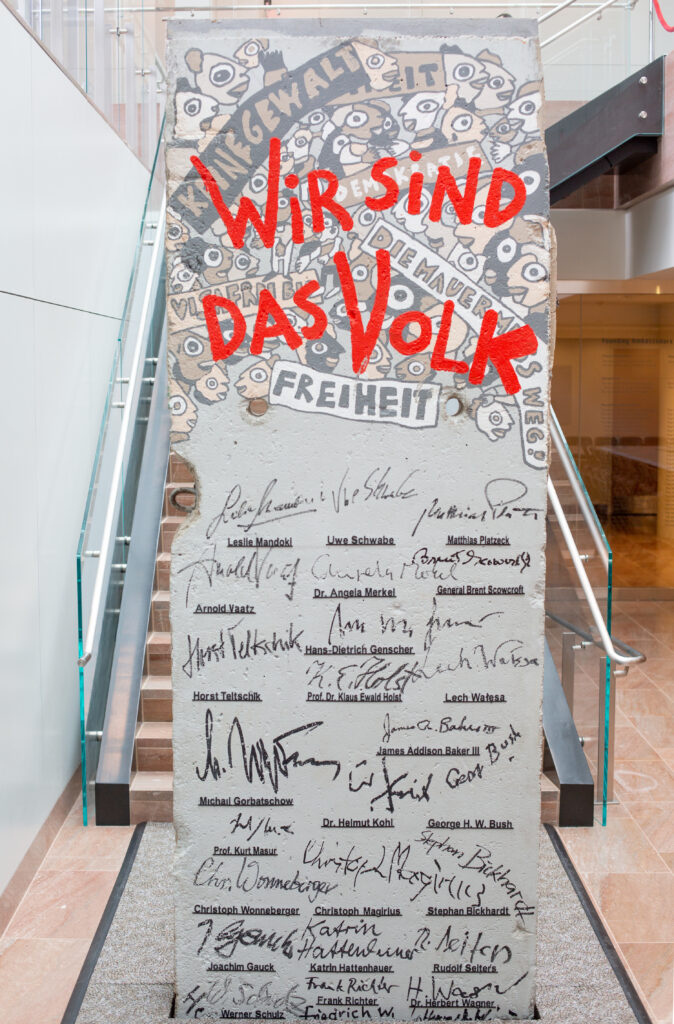 Leipzig artist Michael Fischer-Art painted this segment, depicting protesters during that city's own "Peaceful Revolution" demonstrations in 1988-89. Fischer-Art had created many of the original banners protesters carried as they chanted, "Wir sind das Volk" ("We are the People"), "Freiheit" ("Freedom"), and other pro-democracy messages.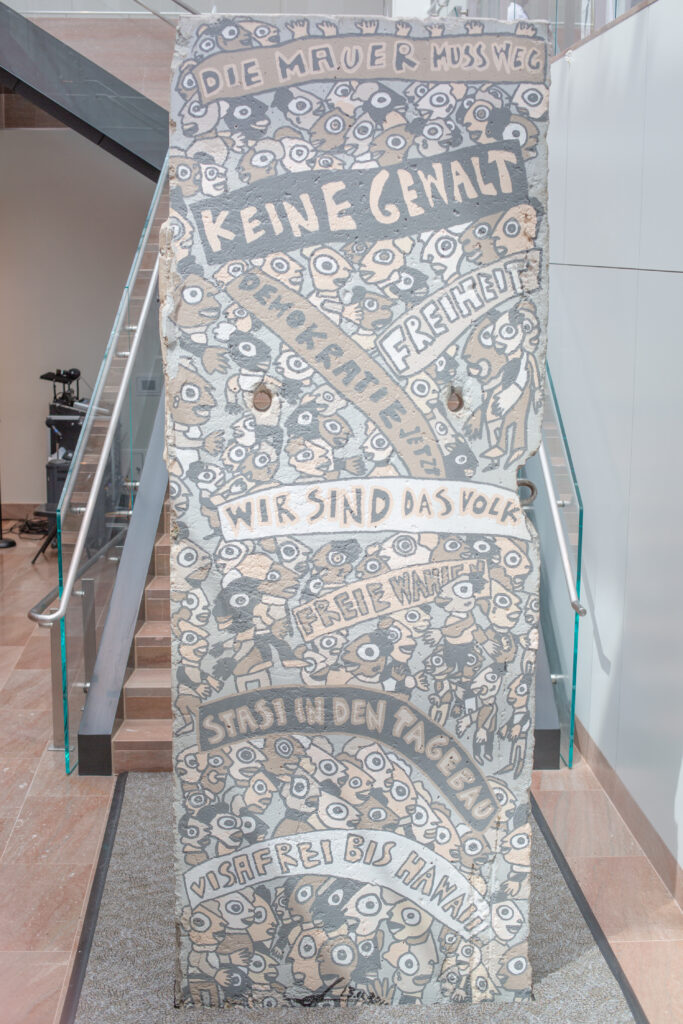 In 2009, Verbundnetz Gas (VNG) of Leipzig, Germany, purchased the Signature Segment and soon sent the Signature Segment on an education tour across Europe. In 2014, VNG presented the Signature Segment to the Atlantic Council, which sent the segment to the German Embassy in Washington, D.C., for display for the 25th anniversary of the fall of the Berlin Wall.
On October 7, 2015, U.S. Secretary of State John Kerry formally accepted the segment on behalf of the National Museum of American Diplomacy from German President Joachim Gauck, one of the original signers.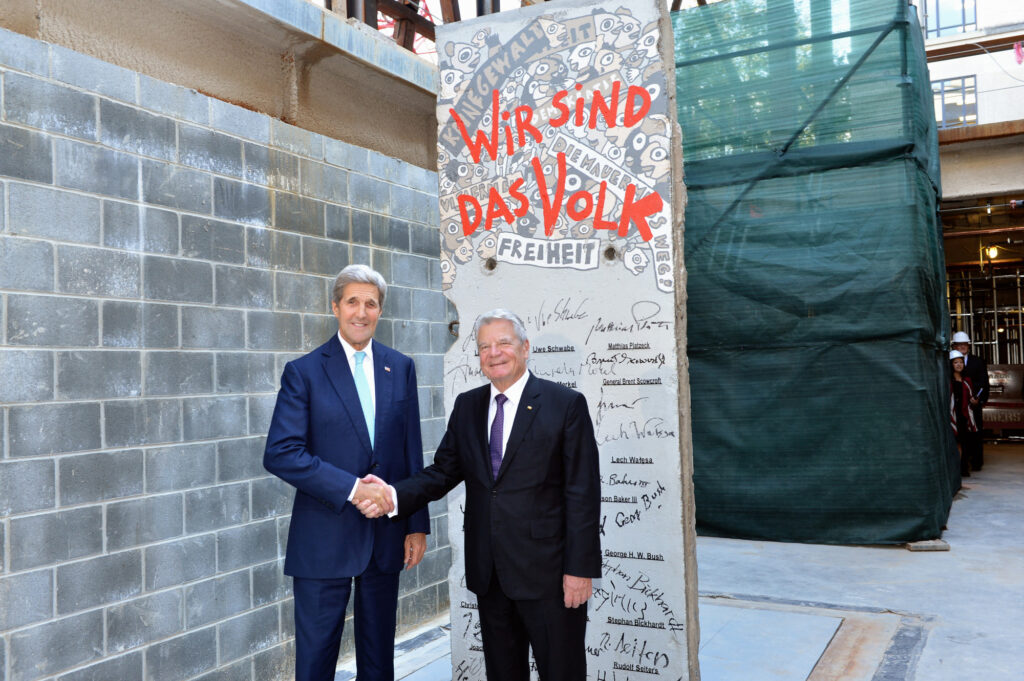 The "Signature Segment" of the Berlin Wall will be one of the first objects visitors encounter as they enter the museum. Visitors will see the historic signatures on one side and the powerful symbols on the other. Highlighting the important roles diplomacy and the courage of individuals played in ending the Cold War, the "Signature Segment" will have pride of place in the first museum dedicated to telling the story of American diplomacy.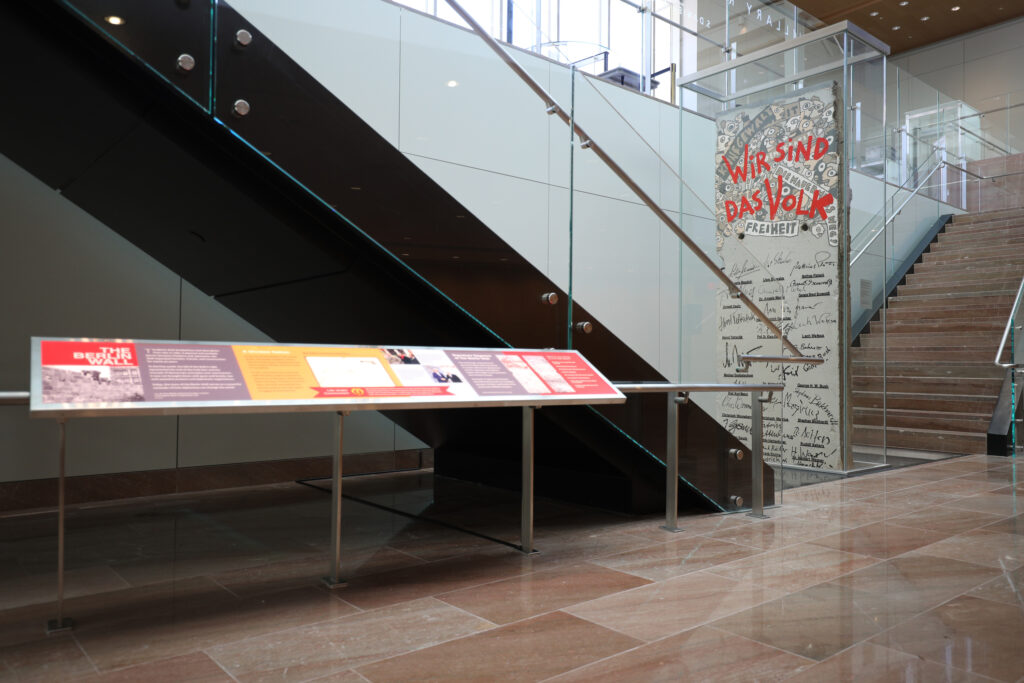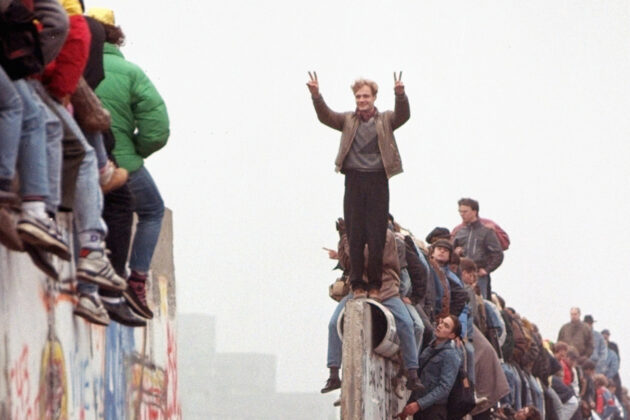 ONLINE EXHIBIT
Berlin Wall Interactive Timeline
Discover the history of the Berlin Wall as told through the voices of American diplomats in this scrolling timeline. Explore diplomatic events from the end of World War II in 1945 through Germany's reunification in 1990.
Explore Online Exhibit