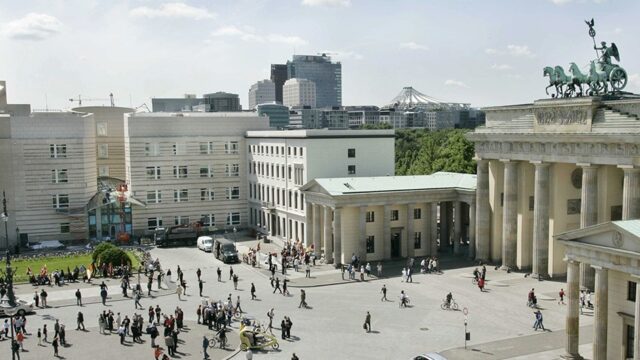 U.S. Embassy Berlin, Germany
Following the establishment of the German Empire on January 18, 1871, the United States recognized the new German Empire by changing the accreditation of its Minister to Prussia to become Minister to the German Empire. The American Legation was elevated to embassy status in 1893.
The history of U.S.-German relations in the first half of the twentieth century was rocky, reflecting the two world wars in which the United States and Germany fought on opposite sides. Since the end of World War II in 1945, U.S.-German relations have been a focal point of American involvement in Europe. This relationship has changed significantly over the past six decades, reflecting the tensions of the Cold War. The historic reunification of Germany in 1990 and the role the United States played in that process have served to strengthen ties between the two countries.
Today, German-American political, economic, and security relationships continue to be based on close consultation and coordination at the most senior levels. U.S. relations with Germany are based on our close and vital relationship as friends, trading partners, and allies sharing common institutions.
In the political sphere, Germany stands at the center of European affairs and plays a key leadership role as a member of the G-7, G-20, the North Atlantic Treaty Organization (NATO), and the Organization on Security and Cooperation in Europe (OSCE). The United States and Germany work side by side to maintain peace and freedom, and Germany plays an important role in NATO's core mission of collective defense.
Today, the U.S. embassy is in Berlin. There are also U.S. Consulate Generals in Dusseldorf, Frankfurt, Hamburg, Leipzig, and Munich. Explore more information on our relationship with Germany.
Map Link:
Source:
United States Department of State, Office of the Historian and Bureau of European and Eurasian Affairs.
Social Links:
https://www.facebook.com/usbotschaftberlin
Related Links:
U.S. Embassy and Consulates in Germany