1860 Japanese Embassy Medal
Washington, D.C. 1860
In the 1850s, after more than 200 years of self-imposed isolation, Japan opened up to trade dialogues with the United States and western Europe. The first Japanese delegation to the United States arrived in Washington, D.C. in 1860. They delivered a trade agreement, negotiated by Commodore Matthew Perry, which opened select Japanese ports to American trade. The Japanese diplomats met with Secretary of State Lewis Cass and President James Buchanan, whom they presented with lavish gifts of state. In return, Secretary of State Cass gave them commemorative medals featuring the President's likeness—made of gold, silver, or bronze, depending on the recipient's status. This example is one made of silver, and includes its original presentation box.
Source/Credit:
Catalog Number:
Created:
Acquired:
This image is in the public domain and no permission is required to use it. Please credit the National Museum of American Diplomacy as the original source, and provide a link back to the item page where possible.
Most of our items are donations, and we cannot always confirm the copyright or trademark status of photographs, prints, drawings, and other artistic works that may be depicted in these images.
Please contact us at NMAD@state.gov for any permissions or usage questions.
Related Content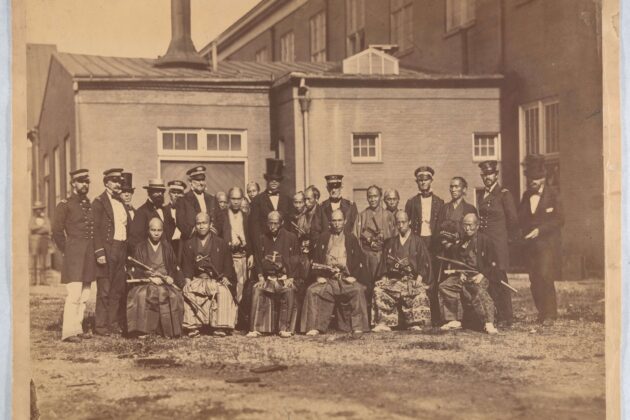 Online Exhibit
Gunboat Diplomacy
In 1853, American Commodore Matthew Perry led a small squadron of U.S. Navy warships to Tokyo Bay with the goal of establishing relations with Japan. Perry meant to use force if the nation refused, but the Japanese had already determined to negotiate a treaty, and no shots were fired. The expedition laid the groundwork for a trade agreement between the United States and Japan. The use or threat of military force to advance foreign policy objectives became known as "gunboat diplomacy."
Learn More About Gunboat Diplomacy