Iran Hostage Blindfold
Iran c. 1979
This piece of cloth was fashioned into a blindfold and used on U.S. diplomat Robert Blucker, who was serving at the U.S. Embassy in Tehran in 1979 as an Economic Officer. Blucker was one of 52 who were ultimately held hostage for 444 days, in what became known as the Iran Hostage Crisis. November 4th, 1979, the day the hostages were taken, was Robert Blucker's first full day on the job at the embassy. On the second morning of his captivity, he was physically beaten. About a month later, he was interrogated and left six hours blindfolded in a very cold room. He could hear the clicking sounds of his captors' rifles. After Blucker and the other hostages' release in January 1981, he spent some time with friends in Germany. As a token of thanks to his hostess, Marianne Form, he gave her this blindfold and three date stones, which he had saved to represent his primary source of nutrition during captivity. He told his hostess to wash the blindfold, but she did not. She said, "...all his tears are still in it, this is like a relic."
Source/Credit:
Catalog Number:
Created:
Acquired:
This image is in the public domain and no permission is required to use it. Please credit the National Museum of American Diplomacy as the original source, and provide a link back to the item page where possible.
Most of our items are donations, and we cannot always confirm the copyright or trademark status of photographs, prints, drawings, and other artistic works that may be depicted in these images.
Please contact us at NMAD@state.gov for any permissions or usage questions.
Learn More About the Iran Hostage Crisis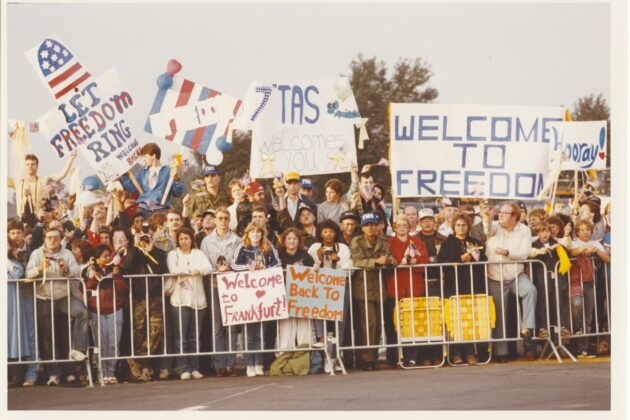 Story of Diplomacy
"Tie a Yellow Ribbon:" The Origin of the National Response to the Iran Hostage Crisis
In November 1979, 52 Americans in the U.S. Embassy in Tehran were taken hostage by Iranian students. Everyone, from the most junior staff members to the person in charge of the embassy, were taken and held in captivity for 444 days. Closely following the crisis for over a year, the public wanted to show their support for the hostages and their families. Yellow ribbons became the symbol of hope for their safe return.
Learn More